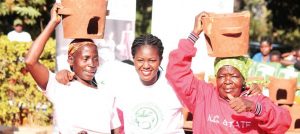 2 million households to get cook stoves by 2020
As the country continues to grapple with persistent power outages, a concept being championed by Irish Aid and United Purpose is working on providing two million cook stoves to Malawians by the year 2020 to contribute towards easing demand for resources used for household cooking.
United Purpose Marketing Manager, Liviness Msafu, said the initiative is being implemented under a project called Maeve with support from the GIZ Energising Development Programme.
Msafu said the usage of the cook stoves, locally known as Chitetezo Mbaula, has a positive impact on the environment through reduced forest degradation and deforestation.
"Chitetezo Mbaula is also reducing deforestation and reducing gas emissions. It also aims at improving water, air and soil quality besides sustaining biodiversity. Such impacts often extend beyond the target areas and can be considered as advancing public good," Msafu said.
She said the cook stoves are produced out of clay sourced from communal sites like anthills, flat grounds and pits.
Msafu said the project is supporting Concern Universal to extend the use of social protection programmes in overcoming access barriers to reach 10 percent of the population in at least nine of the country's 28 districts.
"By January, 2016, we had more than 100 production groups in the country with over 200,000 households cooking with Chitetezo Mbaula. Various programmes under the project are scaling up to complement the promotion of other stoves so that we reach our target in the next three years," she said.
Msafu said United Purpose is hosting the National Cookstove Steering Committee, which aims at creating a vibrant, cleaner cook stove sector capable of delivering on its targets.
She said the committee has been tracking progress of the project's goals and noted that it has passed its first landmark by reaching out to over 500,000 stoves.
"However, based on the current rates, it has been estimated that roughly about one million stoves will reach households in the next three years. So the challenge is for us to double the figures," Msafu said.
He said currently, there are 14 builders under the programme and 225 active production groups for Chitetezo Mbaula stoves across the country, providing income to 4,700 people.
A beneficiary of the project, Ntchachi Gondwe, said she used to buy an ox-cart of firewood every month for her fish-smoking and milk-fermenting business but changed to buying one ox-cart in six months.
"I am using less firewood for cooking. The savings from the use of less firewood have changed my life in many ways. I am also contributing to conservation of the environment through reduced usage of firewood," Gondwe said.
The stoves concept was hatched in 2015 to distribute the stoves for free to beneficiaries of the Social Cash Transfer programme.
The project prides itself in using three to five kilogrammes of firewood for cooking per day, compared to the use of over 1,000 kilogrammes used each year in other methods of cooking.
(Visited 42 times, 1 visits today)
Latest posts by Vanessa Banda
(see all)