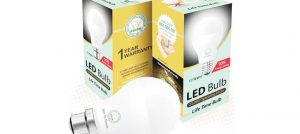 22 Megawatts saved in LED bulb campaign
THE Demand Side Management project being implemented by the Electricity Supply Corporation of Malawi (Escom), through free distribution of light emitting diodes (LED) bulbs, has seen the corporation saving 22 megawatts as at mid April.
The project, which is in phase one started in December 2016, is one of Escom's mitigation measures to reduce the impact of load shedding to customers. Escom procured a total of 1.2 million bulbs, 500,000 of which were to be distributed for free and the rest are to be sold at a subsidised price of K500 each.
The free distribution phase ended on April 14, 2017. Escom publicist, George Mituka, said it is expected that installation of all the 1.2 million bulbs, which cost K5 billion, would result in a saving of close to 40MW, which can supply around 45,000 domestic and commercial customers.
"Further, this is comparable to commissioning a power generation station which would have taken not less than five years and would have cost about K70 billion. "Retailing of these subsidised LED bulbs will be in exchange with working incandescent/ordinary bulbs or compact florescent lamps (energy saver bulbs)," he said.
Mituka further said, retailing of the LED bulbs has started on a pilot phase, at Escom's customer service centers in the major cities of Lilongwe, Blantyre, Zomba and Mzuzu.
In Lilongwe, the bulbs are being sold at Magetsi House at City Center and Game Complex at Old town, while in Blantyre; retailing of the bulbs has started at Blantyre office along Sanjika road and at Limbe City Plaza at Yianakis.
In Mzuzu, the bulbs are available for sale at Mzuzu Regional Office and in Zomba they are being sold at Zomba Power Station.
Mituka said the installation of the LED bulbs would reduce the demand for electricity for lighting during the evening peak and early morning peak hours, thereby minimising the impact of load shedding.
He further said records at Escom have shown a substantial decrease in the demand for electricity in beneficiary areas after the installation of the bulbs.
"An LED bulb is an energy saver bulb which uses about 10 percent of energy that the ordinary incandescent bulb (IB) uses while giving the same amount of light. "It has a life span of 25,000 hours while an IB has a life span of 1,000 hours.
In the long run, an IB is more expensive than an LED due to the regular replacement costs. The low consumption of energy translates into a benefit to the customer in that they pay less in electricity bills," he said.
(Visited 4 times, 4 visits today)
Latest posts by Vanessa Banda
(see all)