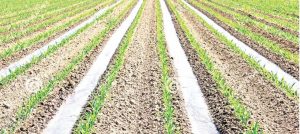 $234 million irrigation project earmarked for Jan 2018
The first phase of the $234 million Shire Valley Irrigation programme is expected to roll out in January 2018.
The programme will be funded by the World Bank and the African Development Bank (AfDB) and is expected to run between 2018 and 2023.
Once completed, the irrigation programme is expected to boost agricultural production by helping farmers increase their productivity.
Technical Team Coordinator for the programme under the Ministry of Agriculture, Rodrick Champiti, said the initiative is further aimed at improving agriculture sector's input to the economy.
The World Bank has committed $160 million while the AfDB will pump in $50 million.
According to Champiti, the funds comprise grants and soft loans.
He said discussions among stakeholders were at an advance stage to see the first phase of the project underway by January 2018.
"We expect that the whole process will be completed by December after Parliament has approved it. Then it means that from January next year, the first phase of the programme is starting," he said.
He said the programme will complement the Greenbelt Initiative.
The project will add 45,000 hectares under irrigation in the Lower Shire via a large canal system and will ensure a more consistent supply of water throughout the year.
The plan is to divert water from Kapichira Dam to the agricultural area on the West Bank of the river between Chikwawa and Bangula, according to Champiti.
(Visited 12 times, 12 visits today)
Latest posts by Vanessa Banda
(see all)