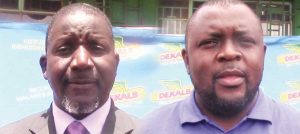 500 farmers get crop insurance
Over 500 farmers will receive free maize seed as reimbursement for the initial seed they bought and did not germinate from Monsanto Malawi, the company has said.
The development is coming under a crop insurance initiative the company launched earlier this year aimed at offering protection to farmers in the case of harsh weather conditions.
This came out when the company started the initiative to compensate its customers in the Central Region recently following the onset of the rains.
Monsanto Malawi Country Manager, Gift Kawamba, said that they expect the number of farmers to benefit under the initiative to grow as farmers in most parts of the Central and Northern regions have just started planting.
"Most farmers in Malawi like to plant with the first rains and, then, you find that the seeds do not grow very well. So, as a responsible company, we are not just interested in selling the seeds but also helping the farmers have bumper yields," Kawamba said.
Zalimba Makawa, who represented the Insurance Association of Malawi during the reimbursement programme, hailed the concept, stressing that, despite crop insurance being a new concept in the country, it will go a long away in growing the agriculture sector.
"We should look at this with a business perspective because the farmer invests in the seeds and if they die under the ground, the farmer loses out unlike when they insure their investment [because] they are assured of getting compensation," Makawa said.
Controller of Agriculture Extension and Technical Services, Albert Changaya, commended efforts by the company but called for more awareness among farmers stressing that some farmers have not yet welcomed the initiative.
"This is a milestone because some farmers do not believe that they can ensure their crop either against drought or other challenges. So it is very important that farmers should be covered like that," Changaya said.
Latest posts by Vanessa Banda
(see all)