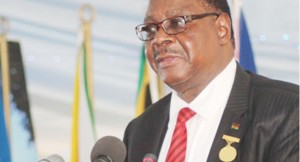 9 US firms eye Malawi energy
President Peter Mutharika says nine companies from the United States of America are prepared to invest in Malawi's power sector through the Millennium Challenge Corporation (MCC) energy revitalisation initiative in the country.
He told journalists in Egypt that the American companies are expected to begin the process of entering the Malawi power sector in various aspects of the power sector, including hydro, solar, wind and biomass.
Mutharika said under the energy sector reforms being undertaken through the MCC initiative, Malawi will see the coming of private power operators on the Malawi market.
"Necessary measures will be put in place to ensure that the country has enough power supply," said Mutharika.
Mutharika said Malawi needs a lot of power in order to attract investors, especially in the mining sector.
He said the country requires 2,000 megawatts of electricity and that the 361mw being produced now is far from adequate.
"The mining sector consumes a lot of power. For instance Kayelekera uses diesel to do its mining but that only increases importation costs and raises the wage bill," he said.
"Zambia has 2,300 megawatts, Mozambique has 1,500 and we only have 361 megawatts. We can't attract investors with that kind of power," said Mutharika.
(Visited 1 times, 1 visits today)
Latest posts by Vanessa Banda
(see all)