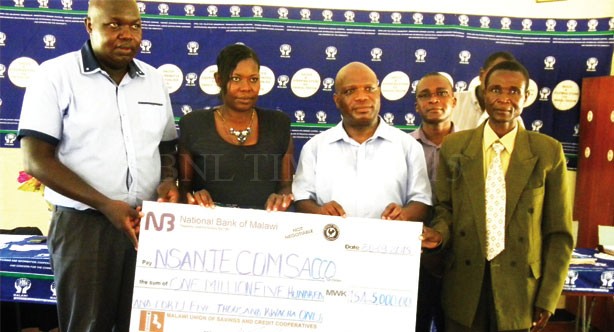 ACCOSCA donates to Nsanje Sacco
ACCOSCA donates to Nsanje Sacco
The African Confederation of Cooperative Savings and Credit Associations (ACCOSCA) on Friday donated K1.54 million to Nsanje community Sacco, to assist in re-building the organisation as it was severely affected by the floods that occurred in the country.
ACCOSCA Executive Director George Ombado said as a group they were deeply touched by the damage the floods caused not only to Sacco members, but Malawians in general.
"When we heard the news that one of our members had been affected with the floods, we came together as a family and donated the little we had.
"Today, we are giving this donation, so that our friends here can re-build themselves and continue with their business in a good environment," said Ombado.
He further urged the members to embrace the Sacco, so that it is able to grow not only in Africa but the entire world.
Ombado also advised the members to elect productive members who will assist them to grow.
"When elections come, please elect people that will assist you grow. It will be sad that this Sacco should in the next years close down due to poor management," he said.
Malawi Union of Savings and Credit Cooperatives Limited (Muscoo) president Slyvester Kadzola said the Nsanje community Sacco was completely sub merged in water following the floods.
"The Nsanje Sacco building was completely submerged in water and they lost some property. The needs of this community are many and for them to recover, they need support. As a family, we are trying to mobilise resources so that the office is back on its feet," said Kadzola.
He further said the Sacco will find a temporary shelter to continue with its operations.
"Today's support is to replace some of the office equipment that has been rendered an usable as a result of the floods," he said
Latest posts by Vanessa Banda
(see all)