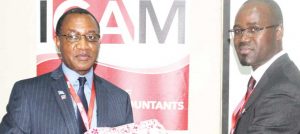 Accountants challenged on corruption | The Times Group
Accountants in the country have been challenged to take a leading role in the fight against corruption.
The message took centre stage during this year's Institute of Chartered Accountants in Malawi (Icam) annual Lakeshore conference held in Mangochi over the weekend.
Corruption is a cancer that has slowed the country's development strides and continues to perpetuate poverty and high unemployment levels.
Latest statistics show that the country is still losing millions of kwacha through corrupt practices and some commentators feel the vice has been happening under the watch of professional accountants.
According to the 2017 Transparency International (TI) corruption index, corruption level have worsened over the last few years with Malawi dropping from position 88 in 2012 to 120 in 2016.
In his keynote address presented during the gathering, FDH Financial Holdings Chief Executive Officer, Thom Mpinganjira, said accountants must rise up and be counted if they are to remain relevant in the fight against corruption.
"I want to challenge accountants that to be influential, they must be at the heart of curbing corruption, reporting suspicious transactions and unethical behaviours," Mpinganjira said.
He said it was unfortunate that some members in the profession were facilitating fraudulent and corrupt practices.
Mpinganjira cited the plunder and looting of billions of kwacha from government coffers, dubbed Cashgate.
"The evils of our inaction in curbing corruption have caused misery to the lives of millions of our people and they must be brought out into the light. They are not pleasant. They are disturbing," he said.
Cashgate led to the loss of confidence from Malawi's development partners and an immediate suspension of direct budget support in 2013.
Icam President, Henry Chowawa, conceded that some accountants are at the centre of fraudulent activities in the country.
Chowawa said this has eroded the reputation of the profession "that has taken ages to build."
"The level of moral decay by our members is reaching unprecedented levels. The profession, which is so noble, is gradually drifting into the muddy waters of disrepute.
"We cannot afford to be buried in the scroll of failed professionalism. We should never allow even one member of this noble profession to be the cancer that will perforate through our long-cherished trust, reputation, diligence, and ethical conduct," Chowawa said.
Chowawa said the institute is currently investigating over 10 corruption cases involving some of its members.
Going forward, Chowawa said Icam has adopted a policy to publicise the names of those involved in fraudulent activities
(Visited 34 times, 34 visits today)
Latest posts by Vanessa Banda
(see all)