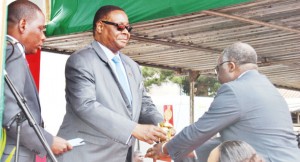 Admarc best fair exhibitor
The Agriculture Development and Marketing Corporation (Admarc) has been named the best exhibitor at the on-going Malawi International Trade Fair.
Admarc was among five companies that were awarded with a trophy in various categories at the fair.
Monsanto Malawi has been named best exporter while Scribe furniture scooped the best small and medium enterprise.
Kenya was named best foreign exhibitor while Pharmanova was named best manufacturer and Competition and Fair Trading Commission was awarded for best service provider.
Monsanto Commercial Lead Martin Isyagi said the company exports on a large scale hybrid maize seed within the African continent.
He said the main export variety is CG4141 which is produced locally.
"We do export over 100 hacters of cultivated hybrid seed to South Africa and the seed goes further to Botswana per year," he said.
Isyagi said apart from exporting the seed, Monsanto also help the government in job creation.
He said the 100 hacters are produced by local farmers, who are contracted by the company.
"We do contract local small scale farmers to produce the seed for us, after which we buy them at a very good price. The price itself motivates the farmer to produce the seed standard that we look for. So, you can see that there are trickle down effects in our production," he said.
Isyagi also said that because of the good prices offered, there is at times over production of the variety.
"We have special varieties that are for the Malawi market and we are able to produce them and meet the local demand. But with the good prices we offer to our farmers, mostly we do have over production of the CG4141, which we then sell locally," said Isyagi.
Monsanto produces hybrid maize seed varieties such as DKC 9089, DKC 8033.
Latest posts by Vanessa Banda
(see all)