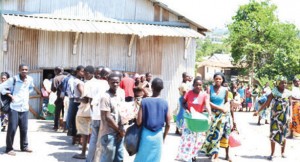 Admarc explains rationing system
Agricultural Development and Marketing Corporation (Admarc) says the 20 kilogramme maize ration per individual being implemented in all its outlets across the country will be reviewed once there is stabilization in the availability of the grain on the market.
The public grain marketer is implementing a rationing system of a maximum of 20 kilogrammes per buyer in a bid to bar vendors from taking advantage of the lower prices that Admarc is offering for the grain.
Admarc is selling the maize at K110 per kilogramme compared to K150 on the parallel market.
But some people we spoke to fear that the ration system is an indication that the country does not have enough grain to run through to the next production season.
The buyers said the move shows that the commodity is still scarce despite government's earlier assurance that it had procured enough additional maize stocks to feed the nation.
"I feel the situation is out of hand and this is a control measure by Admarc," said one of the buyers we spoke to at the Chilobwe Admarc depot.
In an interview on Tuesday, Admarc Chief Executive Officer Foster Mulumbe, however, said Admarc is still monitoring the market trends.
He also stressed that the grain trader had in stock enough maize which will last to the next season.
"The rationing does not mean we do not have adequate stocks. We do have adequate maize to run to the next season. By restricting the purchase quantity to a maximum of 20 kilogrammess per person, we are actually trying to make life difficult for some traders who would want to buy maize from our reserves for resale," said Mulumbe.
Mulumbe further said should the situation improve, Admarc was ready to review the ration limit.
"Our maize is meant for consumption and not for trading," he said.
Locally, Admarc bought over 25,000 metric tonnes of maize and imported 30,000 metric tonnes and according to our investigations, by mid last week, the country had in stock 46,550 metric tonnes at its National Strategic Grain Reserves.
(Visited 6 times, 6 visits today)
Latest posts by Vanessa Banda
(see all)