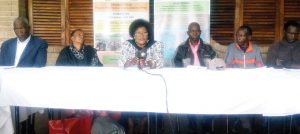 Admarc, farmers tussle rages on
By William Kumwembe:
Disagreements continue among stakeholders on the pigeon peas market over intended beneficiaries of the K4.8 billion government allocation for purchase of the commodity.
Pigeon pea growers under the Nandolo Farmers Association of Malawi (NFAM) continue expressing anger and outrage over failure by the farmers to benefit from the chunk, claiming only large-scale traders are profiteering.
However, State produce trader, Agriculture Development and Marketing Corporation (Admarc), has blamed the growers' umbrella body for failure to cooperate on market modalities.
A recent study conducted by NFAM in eight key pigeon peas growing districts revealed that farmers were still keeping an estimated 51,000 metric tonnes (mt) of the commodity.
Ironically, government set aside about K4.8 billion for the purchase of about 23 million mt tonnes.
Addressing journalists in Blantyre Tuesday, where some farmers also narrated their ordeal, NFAM President, Susan Chimbayo, reiterated that the growers feel cheated.
She said despite being the ones who pushed for government's intervention following the collapse of the local nandolo market in the wake of Malawi's failure to secure a market in India, the growers are not benefiting.
"The market is collapsing. We expected farmers to benefit, to no avail. Admarc is not even recognising us. The farmers under corporatives are denied access to market," Chimbayo said.
Jimmy Nandolo, a member of Khonde Corporative in Balaka District said they are yet to trade over 250 bags of the commodity.
He said he sold some of his pigeon peas to vendors at K150 per kg. Admarc is buying the commodity at K230 per kg.
"Admarc is operating in contrast to a directive from the government. Some of the people buying are Admarc officials who are disguising as vendors. Literally, we have lost hope," Nandolo said.
Speaking in a telephone interview Tuesday, Admarc Acting Chief Executive Officer, Margret Roka Mauwa, played down the claims, saying the grain trader has been buying the produce direct from peasant farmers in the rural areas.
She was, however, elusive on when her organisation would stop buying the commodity and what Admarc would do with the high volumes of pigeon peas to be bought, saying the government is better positioned answer those questions.
Last month, Minister of Finance and Economic Planning, Goodall Gondwe, said the government has tapped K4.8 billion from the unforeseen circumstances vote of the 2018/19 budget to buy 23,000 mt from local farmers.
Latest posts by Vanessa Banda
(see all)