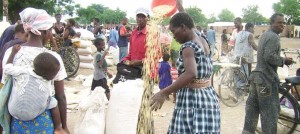 Admarc to procure extra maize in November
Agricultural Development and Marketing Corporation (Admarc) is expecting to procure an extra 300,000 metric tonnes of maize by November to prop up maize stocks.
Admarc is expecting to source 100,000 metric tonnes of the stock from Zambia while the rest is expected to be purchased from Romania, Brazil and Mexico.
Admarc Chief Executive Officer, Foster Mulumbe, has confirmed that the country has enough stock to meet demand.
"There is no need for panic, this is enough maize to take us through to the next harvest season," Mulumbe said.
Mulumbe also justified new maize prices Admarc is offering after President Peter Mutharika directed that prices for the staple be adjusted to K250 per kilogramme from last year's offer of K110.
Mulumbe said the adjustment has only affected the buying price for the staple and not the selling price as other people are speculating.
"The buying price has gone up by over 160 percent but we are still selling the maize at K250 per kilogramme without any mark up. The selling price this year is much lower than what we were offering last year," he said.
Mulumbe said while Admarc prices may seem high, the grain trader will maintain the price until the next harvest season.
"At some point, the vendors might run out of stock, but we have enough to satisfy the demand which is there. We have stocked all our markets with enough maize and we will be adding extra markets to make sure that consumers do not walk long distances and add extra costs on the maize," he said.
Last year, Admarc opened its markets with only 51,000 metric tonnes of which 21,000 metric tonnes were sourced locally.
(Visited 1 times, 1 visits today)
Latest posts by Vanessa Banda
(see all)