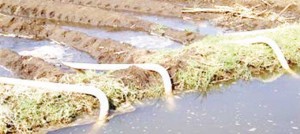 AfDB approves $22 million for youth agribusiness
The African Development Bank (AfDB) has approved a $22.33 million (about K16.7 billion) concessional loan to Malawi to finance the country's Agricultural Infrastructure and Youth in Agribusiness project.
In a statement, the bank said the project will develop two large scale irrigation schemes at Linga in Nkhata-Bay and Dwambazi in Nkhotakota in the central region of the country.
The project covers 1,945 hectares and targets 10,000 beneficiaries with special focus on the youth who constitute about 50 percent of the beneficiaries.
"It aims to use irrigation infrastructure as an enabler for scaling up the production of a number of crops including maize, rice, sugar and horticulture products and enhancing value addition through processing within the context of the Malawi Growth and Development Strategy (MGDS) which identifies agriculture and food security, irrigation and green belt initiatives as drivers of economic growth.
"The overall objective of the project is poverty alleviation to be achieved through improved rural livelihoods and income generation for the beneficiaries and enhanced food security," reads the statement in part.
According to AfDB, by expanding opportunities in agriculture and agribusiness among the rural youth, the project will ensure inclusive growth.
The project, according to the bank, is transformative and will promote exports and import substitution through improved value addition and processing.
Apart from mitigating the challenges arising from dependency on rain-fed production the project will promote youth entrepreneurship through improved access to credit from Micro Finance Institutions.
"It is estimated that within four and half years the project will produce a large number of Agriculture entrepreneurs and train artisans for the maintenance of irrigation infrastructure, as well as launch new agribusinesses, which are expected to generate employment for about 4,600 people, with the majority being women," said AfDB.
The African Development Fund's (ADF) concessional $22.33 million loan represents 83 percent of the project's funding. The EU will provide a grant of $ 2.23 million, while the government and beneficiaries will contribute the remaining $2.46 million.
Early this month, the AfDB together with the International Institute of Tropical Agriculture (IITA) embarked on the initiative "Jobs for Youth in Africa", aimed to put an end to youth unemployment on the continent by creating eight million agribusiness jobs within five years.
AfDB president, Akinwumi Adesina, said "There is no reason for Africa to spend $35 billion importing food when the continent could feed itself".
(Visited 20 times, 20 visits today)
Latest posts by Vanessa Banda
(see all)