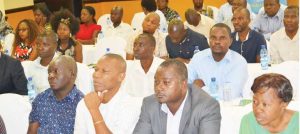 Agro-dealers urged to focus on cash sales
Agro-dealers trading with hybrid maize seed producer, Monsanto, have been urged to focus their business on cash sales as opposed to relying much on the government-run Farm Input Subsidy Programme (Fisp).
This was said during an interface meeting the company had with Southern and Eastern region agro-dealers.
Monsanto Channel Account Manager, Dennis Kachikho, said it is important for the agro-dealers to re-position themselves in the event that government exits the subsidy programme.
"Let us base our businesses on cash sales and not on Fisp coupons. We need to market our products to farmers who can buy on cash basis, and Fisp should just be an added advantage," he said.
Kachikho further said the introduction of Fisp in the country has helped farmers move from local seed varieties to hybrid seeds.
"We appreciate the role the government has played in promoting hybrid seed varieties in the country and, as a company, we are here to provide seeds that will make the country food secure and address food shortage issues," Kachikho said.
One of the agro-dealers, Samuel Mkwate, said the delay in coupons distribution has shown that farmers now appreciate the importance of buying certified hybrid seeds.
"With climate change, we need seed varieties that can do better with little rains and the coming in of these hybrid seeds has helped the country to remain food secure and still rely on agriculture as its major contributor to the economy," Mkwate said.
(Visited 11 times, 11 visits today)
Latest posts by Vanessa Banda
(see all)