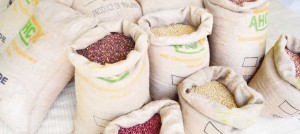 AHCX adjusts tonnage to court more farmers
AHL Commodities Exchange (AHCX) has reduced the minimum tonnage farmers can sell through the exchange. AHCX has now started accepting a minimum of half a tonne or 10 bags weighing 50 kilogrammes each. Previously, the exchange was only accepting 20 bags, an equivalent of one tonne.
AHCX Communications Manager, Thom Khanje, said farmers can deposit the commodities at any of AHCX's 20 warehouses spread across the country from Chitipa to Muloza in Mulanje. Khanje said the move was aimed at opening up the exchange to more small scale farmers in the country.
"The issue of minimum tonnage is particularly critical this year as many farmers were not able to realise large harvests due to drought that affected many farmers in the country."
"Our primary goal as AHCX is to provide farmers with a steady and reliable market for their produce at better prices. We believe that allowing farmers to bring small quantities of their produce to the exchange will extend this opportunity to more farmers," Khanje said.
The commodities exchange is a modern marketplace for agricultural commodities in Malawi and the only end-to-end and national level commodity exchange in Malawi.
It operates an auction market for grain and legume crops where buyers compete in acquiring crops from farmers and commodity traders
Commodities currently trading at AHCX include maize, soya beans, pigeon peas, sugar beans, red kidney beans, groundnuts, rice, sunflower and others.
Sellers bring their commodity and decide the price while buyers – both local and international, compete when buying commodity through spot trading.
(Visited 30 times, 30 visits today)
Latest posts by Vanessa Banda
(see all)