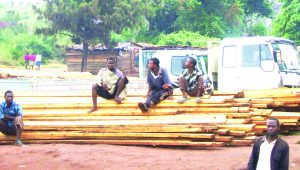 AHCX invests K10 million in tree planting exercise
AHL Commodities Exchange (AHCX) and its subsidiaries have invested close to K10 million in this year's national tree planting season.
AHCX Communications Manager, Thom Kanje, said this during a tree planting exercise held at Luchenza Primary School at the weekend.
He said that the exercise—which targets various districts—seeks to instill the culture of planting trees in learners and communities, especially farmers to bring back the lost vegetative cover.
"For this event we have invested K1 million. It has to be underscored that trees contribute a lot to both health and agriculture, hence our decision to embark on this," said Khanje.
He stated that as a company, they will continue embarking on such ventures as one way of conserving nature. "As we deal with farmers across the country, we have a policy to ensure that we conserve nature by planting more trees annually," said Khanje.
Luchenza Municipality officials said the move will help communities to engage in small scale businesses like timber production once such trees mature.
AHCX—established in 2013—is Malawi's international window for commodities where buyers and sellers transact trade in grain and legumes with assurance of quality, quantity, delivery and payment.
Commodities traded through AHCX includes maize, soya beans, pigeon peas, groundnuts, red kidney beans, white haricot beans, dark speckled beans, light speckled beans, sunflower, cow pea and rice.
(Visited 9 times, 9 visits today)
Latest posts by Vanessa Banda
(see all)