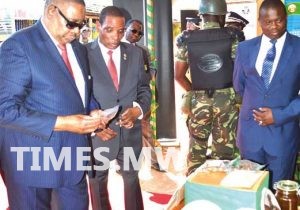 AHCX touts trade fair | The Times Group
Auction Holdings Commodities Exchange (AHCX) has described this year 's National Agricultural Fair a success based on patronage and clinched business deals.
The fair, which was organised by the Malawi Confederation of Chambers of Commerce and Industry (MCCCI) ended on Friday last week.
According to AHCX Communications Officer, Oliver Nakoma, the event provided them a platform where marketing and business ideas with other agricultural institutions were also shared on how to boost business.
Nakoma said AHCX is a marketplace where buyers and sellers can do business with an assurance on quality, delivery and payment.
"The exchange is committed to ensure that the market is assisted with a modern market. Institution brings in much needed integrity by providing a guaranteed mechanism for the quality products, in right quantities and assurance on payments," Nakoma said.
He said to this effect, AHCX managed to sensitise people, especially farmers, on the need to sell their farm produce through the exchange so that they get more profits.
"If producers sell their farm produce like maize, groundnuts, soyabeans using AHCX, they are bound to make more profits, for we secure markets for them. It is not just about selling, but making profits," Nakoma stated.
He said the exchange targets not only commercial farmers, but subsistence farmers if they agree to form a group to meet the required tonnage.
"Anyone is free to sell on the commodities exchange market and this is what we have emphasised a lot during this National Agriculture Fair. We have also stressed the need for them to venture into legume production," he said.
AHCX is a fully electronic-based market, bringing in transparency and empowering the farmers by disseminating market information in real time to all market players.
AHCX is targeting to develop options for risk management by offering futures trading.
(Visited 18 times, 1 visits today)
Latest posts by Vanessa Banda
(see all)