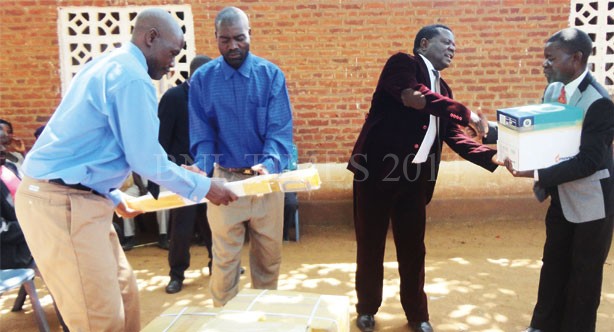 AHL awards Kasungu school for taking care of trees
Auction Holdings Limited (AHL) has presented a special award to Manyani Primary School of Kasungu for emerging as the best in taking care of trees planted during the 2013 National Tree Planting exercise.
AHL's Chinkhoma Floors Manager, Stanley Anselmo, presented the award in form of learning materials during a function held at the school.
Following a tree planting exercise in 2013 sponsored by AHL under its "Adopt a Tree" initiative involving nine schools from all the regions of the country, Manyani Primary School has emerged the best with a 79 percent survival rate of trees planted.
"I would like to express our gratitude towards this school, Manyani, for achieving the highest survival rate of trees among the nine schools," said Anselmo.
The award comprised exercise books, English Teacher's Guide for standard 5 to 8, Mathematics Teacher's Guide for standard 5 to 8, boxes of White chalk, pencils, blackboard rulers and blackboard dusters.
Other schools which participated in the exercise include Enukweni Primary School in Mzimba, Mikundi Primary School in Mchinji, Bowe Primary School in Dowa, Sakwi Primary School in Salima, Kawale Primary School in Chitipa, Makengere Primary School in Machinga and Nankhonde Primary School in Lilongwe.
Anselmo, however, expressed disappointment at the low survival rates in the other schools which, he said, pushed down the average survival rate of the trees planted during the exercise to 49 percent.
"Of course we have taken note of the challenges the school faced in taking care of the trees and we will be here again to plant more trees and it is our hope that the school will do better and have high survival rate again," he said.
He said AHL felt that as a good corporate citizen, it should participate in tree planting at grass root level by planting trees with pupils and their teachers to encourage more schools in Malawi to establish and manage their own woodlots.
"We want to specially call upon all tobacco farming families to willingly adopt a culture of growing more trees without being enticed by inputs. It is the sense of ownership and love for mother nature that is very important," he said.
Latest posts by Vanessa Banda
(see all)