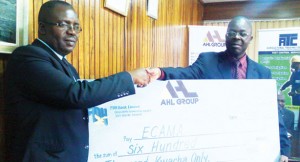 AHL donates K600,000 towards Ecama meeting
AHL Group on Friday presented K600,000 to Economics Association of Malawi (Ecama) for the preparations of the forthcoming annual conference in Mangochi.
AHL Group finance executive Stonie Chadzunda said the company expects the conference to come up with ideas that would help the country's different sectors including agriculture which is AHL Group's mainstay.
"We want the conference to discuss areas that can help bring policies for the agriculture sector which needs some reforms for the country to benefit more," Chadzunda said.
AHL Group is a regular donor towards the annual lakeshore conference that brings a lot of economists from inside and outside the country and it is expected that President Peter Mutharika will open this year's conference.
Ecama executive director Edward Chilima said the conference is expected to recommendations to government and private sector on how to address economic challenges the country is grappling with.
He appreciated the donation saying organising such a conference requires a lot of resources.
Chilima said the event brings numerous advantages to the country since experts discuss and come up with ideas that are crucial to the economic development of the country.
He hinted that some of the issues affecting the country can be addressed if the government takes heed of what such conferences recommend.
"The conference will come up with some ideas that may not be new to the government. Perhaps they will only be improved considering some new challenges. The biggest challenge is implementation; the government needs to implement such ideas if the country is to move forward," said Chilima.
(Visited 18 times, 18 visits today)
Latest posts by Vanessa Banda
(see all)