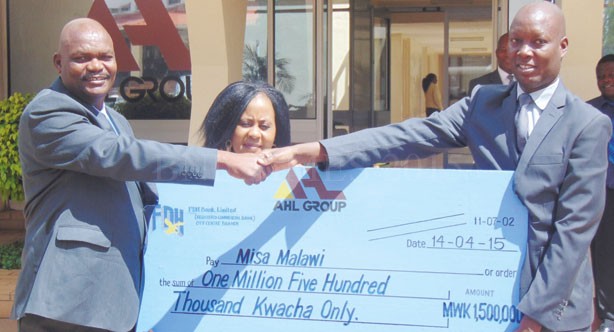 AHL donates towards MISA's strategic plan
AHL donates towards MISA's strategic plan
The newly rebranded AHL Group Limited on Friday donated towards the development of the first ever localised strategic plan for the Media Institute for Southern Africa-Malawi Chapter (MISA-Malawi).
The company presented a cheque worth K1.5 million as its contribution towards the budget of about K5.6 million for the development of the five year strategic plan for Misa- Malawi.
MISA-Malawi chairperson, Thom Khanje, received the donation at AHL Group's headquarters at Kanengo in Lilongwe. It was presented on behalf of AHL Group by their Administration Executive, Isaac Kambirinya.
Kambirinya said AHL decided to respond to MISA-Malawi's request for support because it values the critical role the institution plays in promoting media freedom, independence and professionalism.
He said AHL recognises the importance of the media in the development of the country through, among other things, dissemination of information about businesses such as AHL Group
In his remarks, Khanje explained that MISA Malawi has always relied on strategic direction and financial support from the headquarters in Namibia but that the drying up of the support from the region since early 2014 has made it necessary for MISA Malawi to start mobilizing resources on its own.
"We have decided to take a new direction of fending for ourselves. Upon taking over the chairmanship, I decided that development of our own strategic plan should be one of the first things I should undertake as that is important in terms of outlining our needs and how we could mobilize resources for meeting those needs," said Khanje.
Khanje also appealed to AHL to consider training journalists in the new concept of commodities exchange the company embarked on through AHL Commodities Exchange.
Latest posts by Vanessa Banda
(see all)