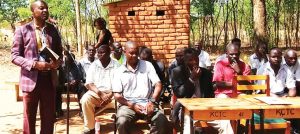 AHL launches mobile information service
By Chimwemwe Mangazi:
The country's tobacco growers will no longer waste money on transport to access information regarding the market following the launch of a mobile phone information service dubbed AHL252 by tobacco marketer AHL Group.
The innovation was launched recently in Mchinji District.
AHL Group General Manager, Graham Kunimba said the initiative will, among others, allow farmers track the progress of tobacco sales and see when their accounts are credited with proceeds from the sales.
"This is a system that we have introduced to help growers to have easy access to information pertaining to the services that we offer as AHL in tobacco sales. What they need to have is a mobile phone to log into the system to access the information.

"We saw that farmers were struggling to access information on the services that we offer. Some used to travel long distance. For example, farmers from Chitipa District had to come down to the Mzuzu market and that is a long distance but now they will be able to inquire any information whilst at home," Kunimba said.
One of the tobacco farmers from Mchinji, Francisco Weluzani, lauded the company for the initiative stressing that they will save on transport and accommodation costs that they used to incur when time they travelled to seek information from the markets.
"We are very happy with this innovation because at first we would spend at least K7, 000 on transport alone and on top of that we had to eat when we get to the market and sometimes sleep in Lilongwe if we were not done with what we wanted. This is a great relief to us farmers," Weluzani said.
Latest posts by Vanessa Banda
(see all)