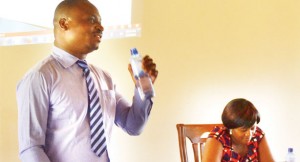 AHL takes HIV fight to tobacco growers
AHL Group has embarked on a series of peer education training workshops aimed at sensitising tobacco growers on the dangers of HIV and Aids.
Speaking last week in Mponela during the opening of the three-day meeting, AHL Group HIV and Aids coordinator, Leonard Chakwawa, said the company's goal is to see a reduction in new HIV infections in the tobacco industry.
He said AHL Group values the role growers play in the tobacco industry and that this is why the company decided to take its anti-HIV and Aids campaign beyond its rank and file.
"A tobacco farmer forms a limb of the tobacco industry, therefore a health farmer is equal to a healthy tobacco industry and a healthy economy," said Chakwawa.
"As a company, we invest a lot in the welfare of tobacco farmers by not just merely providing a market platform but also ensuring that the tobacco farmers brings to the market is of high quality," said Chakwawa.
He further said AHL Group realises that peer educators can bring a positive change in the tobacco industry on issues of HIV and Aids.
The training workshops are being conducted with a message urging growers to protect themselves from HIV and Aids so that they should spend more time in the tobacco field and produce a quality leaf that will fetch more money at auction floors.
One of the participants, Alex Gondwe, said the training workshop would assist in changing the mindset of tobacco farmers.
(Visited 16 times, 16 visits today)
Latest posts by Vanessa Banda
(see all)