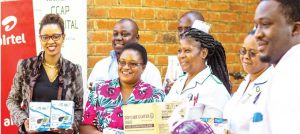 Airtel donates drugs to Nkhoma Referral Hospital
Airtel Malawi, through its Touching Lives corporate social responsibility (CSR) initiative has donated assorted items worth K2 million to Nkhoma Referral Hospital.
Airtel's Corporate Communications Manager, Norah Chavula- Chirwa, said her firm was constantly looking for ways to support the health and education sector with various resources.
"The call from Nkhoma came at the right time as we always seek ways to connect with our communities through various CSR activities like this that improve and promote access to quality public healthcare in the country," Chavula-Chirwa said.
The items included digital BP machines, methylated spirit, gauze, cotton wool and latex gloves, as well as medicine such as insulin, panadol, and antibiotics.
Nkhoma Hospital Senior Medical Officer, Francis Kachedwa, thanked Airtel for the donation.
"This donation has addressed the medical shortfalls that we have been facing here at the hospital. The donation will also benefit nine other health centres such as Malembo, Chinthemba, Mvera, Mlanda, Chigodi, Mphunzi, Malingunde, Chiwe and Dzenza," Kachedwa said.
Nkhoma is one of the oldest hospitals in the Central Region. It has a bed capacity of 270 and treats up to 300 patients per day.
(Visited 16 times, 16 visits today)
Latest posts by Vanessa Banda
(see all)