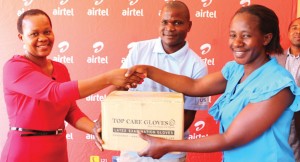 Airtel donates medical supplies
Airtel Malawi has made a donation of 54 cartons of medicine and other medical equipment worth K2.5 million to Zomba District Hospital.
The presentation ceremony took place at Nasawa Health Centre in Zomba District.
Airtel Malawi Public Relations and Corporate Communications Manager, Edith Tsilizani said Airtel holds the belief that the donation will be instrumental in revamping standards of healthcare in addition to supporting efforts to save lives.
"As a brand, we are working tirelessly towards increasing investment in the health sector so that people access quality health care thereby building a more productive and super human resource. Nevertheless, let it be a collective responsibility for us all to ensure that our hospitals do not run out of medicine and other crucial equipment. All this begins with us and we must always remember that everything is possible when our lives grow in harmony," said Tsilizani.
Tsilizani also commended the media for taking a leading role in unearthing social ills, saying the donation was as a result of an article which was carried in the papers documenting the challenges that the hospital was grappling with.
Zomba District Hospital public relations officer, Richard Mvula, who represented the DHO hailed Airtel Malawi for what he described as a timely donation at the time most of the health centres are lacking drugs.
He said the medicine will be distributed in different hospitals in the district, especially in health centres including Matawale, Nasawa and Chingale.
(Visited 6 times, 6 visits today)
Latest posts by Vanessa Banda
(see all)