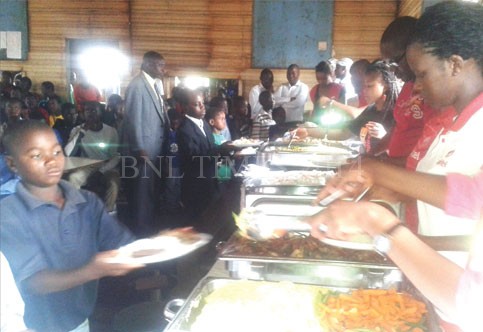 Airtel feeds children – BNL Times
Airtel feeds children
Some Airtel Malawi staffers last Friday visited orphanages in Blantyre and Lilongwe where they served hotel standard food and donated various items to children.
The employees visited Mtendere Children's Home in Lilongwe and Step Kids Awareness Orphanage in Blantyre.
During the luncheon in Lilongwe, Airtel Malawi Chief Commercial Officer, Charles Kamoto, said the idea is to extend the joyous mood the world is having during this festive season to the needy.
He said the company finds joy in giving out to the needy and it is more suitable to have the gesture as the world is in the celebratory season.
"There is more happiness in giving than in receiving and we are so humbled to interact and have fun with orphans across the country today. As a caring and warm brand, we believe these children deserve our attention, passion and presence too," said Kamoto.
Apart from partaking the food, the children at Mtendere Children's Home were also handed with various items including clothes, maize and beans.
The clothes, according to Kamoto, were purchased with contributions from members of staff of the company and that the total value of the donations and buffet at the Lilongwe orphanage was about K1.5 million.
Latest posts by Vanessa Banda
(see all)