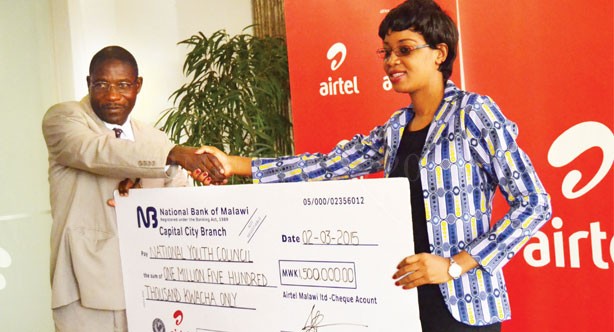 Airtel gives K1.5m to Youth Council
Airtel gives K1.5m to Youth Council
Airtel Malawi on Monday committed K1.5 million towards the National Youth Council (NYC) Annual General Meeting (AGM) slated for this month end.
Airtel Corporate Social Responsibility Manager Nora Chavula described the gesture as an investment in youths who she said takes leading roles in various sectors.
"We are saying we are investing in youths and not donating to youths because we are a youth-centred brand. It is interesting to learn that the theme of the NYC's AGM this year tackles the agricultural sector which is one of the core drivers of our national economy," said Chavula.
She added that putting an ICT face to agriculture will not only add value but also facilitate vibrancy and competitiveness of agricultural activities.
"As an ICT player, Airtel Malawi is geared to grow such innovations with youths in this country. We are fully determined to revolutionise the domestic ICT sphere by incorporating as many local driven solutions that stimulate much needed value additions," she said.
NYC Executive Director Aubrey Chibwana hailed Airtel for aiding his organisation, saying the funds will go a long way in making sure the AGM is a success.
"We approached many companies on our cause but only a few have come forward to assist us and Airtel is one of them. The funds are going to compliment government's efforts to make sure the role of youths in this country is recognised," said Chibwana.
Latest posts by Vanessa Banda
(see all)