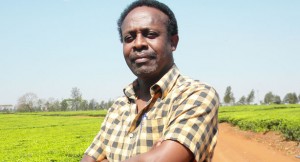 Albert Changaya moves from tea to tobacco
Tea Research Foundation Central Africa director Albert Changaya has replaced Bruce Munthali as Chief executive officer for the Tobacco Control Commission (TCC).
Changaya is expected to take over as TCC chief executive officer effective November 2, 2015.
Tea Association of Malawi (Taml) has confirmed Changaya's move and said the board has temporarily replaced Changaya with Taml chief executive officer Clement Thindwa.
Thindwa said as the tea industry they are thrilled with the appointment of Changaya to TCC.
He said this shows that the government has trust in the private sector, that it is capable of producing competent and efficient personnel.
"As an industry we are happy that a product of the tea sector will be heading the country's major foreign exchange earner sector. We cannot turn down the President's appointment. We are going to miss Changaya, but we know he will be part of the tea industry as most tea estates, apart from growing tea, also grow tobacco," said Thindwa.
Thindwa said Changaya is a very competent person and with no doubt he will help the tobacco sector grow, just like he did with the tea industry.
He, however, said currently the tea industry is facing challenges due to drought hence the need for more researchers.
"We would like to appeal to the government to make sure that the country has a lot of researchers like Changaya. The tea sector needs a lot of research in terms of coming up with new cultivars and as a country we can only do better if we produce more researchers," said Thindwa.
Changaya was appointed to join TCC after Munthali's contract expired in August this year.
(Visited 40 times, 40 visits today)
Latest posts by Vanessa Banda
(see all)