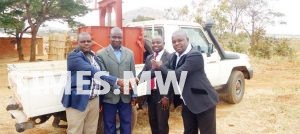 Alliance One bails out tobacco farmers
One of the country's tobacco buying and processing companies, Alliance One Tobacco Malawi Limited, on Tuesday donated 50 bailing jacks to tobacco farmers under the Integrated Production System (IPS).
The materials are worth $35,000.
The bailing jacks are expected to benefit 500 IPS farmers as direct beneficiaries and an estimated 5,000 tobacco farmers who do not cultivate tobacco under IPS.
The recipients included tobacco club members who follow Alliance One recommended sustainable tobacco production mechanisms, key performance indicators and good agricultural labour practices that ban the use of children as sources of labour in tobacco production, among others.
Alliance One Malawi Limited Corporate Affairs Manager, Fran Malila, said the bailing jacks have been donated as part of the company's labour-saving initiative.
The initiative aims to help tobacco farmers minimise the distance they travel to access such materials.
"The donation of the 50 bailing jacks to our contracted tobacco growers across the country aims at minimising labour and transport costs as well as helping to reduce child labour-related tasks here in Malawi," Malila said.
Malila said the post-harvest packaging drive also aims to preserve quality, increase efficiency in transportation, marketing and post-market processing, among others.
In his remarks, one of the beneficiaries, Gradson Dzozi, from Tayamba IPS tobacco club in Traditional Authority Kalumo, Ntchisi District, commended Alliance One for the donation.
Dzonzi said, previously, each tobacco grower used to spend more than K80,000 to cover hiring and transportation costs.
"We will now invest the money we would have spent on this [buying bailing sacks] on equally important things," Dzonzi said.
(Visited 22 times, 1 visits today)
Latest posts by Vanessa Banda
(see all)