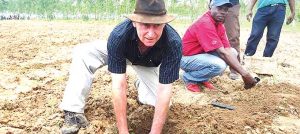 Alliance One commits K1 billion towards tree planting
Alliance One Malawi Tobacco Limited says it has committed over K1 billion towards tree planting exercise. The company has since planted about six million tree seedlings this year.
The company's Managing Director, Hugh Saunders, made the remarks at the closure of 2017 tree planting exercise held at Khola Estate in Traditional Authority (TA) Santhe in Kasungu.
"As Alliance One, we are also committed to addressing climate change and through our tree planting exercise, we do not only create a sustainable reforestation programme, but at the same time, address the environmental issues," Saunders said adding that during this year's tree planting season, Alliance One has planted 6, 290,600 on government forestry reserves, Alliance One's commercial farms as well as on other smallholder farms costing about $1,440,700.
Since 2011, the company has planted over 31 million trees covering some 9, 765 hectares of land with a seedling survival rate of 95 percent annually.
Saunders said that the company decided to venture into this tree planting programme to help government in sustaining the country's environment, saying trees plays a crucial role in the production of both burley and flue cured tobacco in the country.
Since 2011, the company has planted trees at Mpale Estate in Dowa, Chikangawa Forest, Lisandwa and Khola Farms in Kasungu among others.
The long-term investment is funded by Alliance One in collaboration with one of the company's customers, Imperial Tobacco Group.
(Visited 61 times, 61 visits today)
Latest posts by Vanessa Banda
(see all)