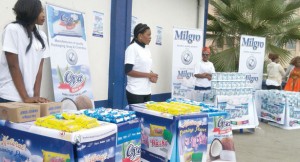 Anchor Industries in brand diversification
Anchor Industries has embarked on a diversification programme of its line of products and has now ventured into food processing in addition to its body care range of products.
On Saturday, the company launched three new product lines which included milk and new soap brands.
The three products include Milgro milk as well as Oya and Washa soaps.
Anchor Industries sales and marketing manager, Maulana Katanje said the new products are part of a product line diversification the company has ventured on.
He said the new products have been developed in consideration of the needs of a Malawians.
"We have considered the socio-economic status of most Malawians when producing these new products, hence, we are targeting almost all people with the products," he said.
He said already, the new three products have received overwhelming recognition on the market.
The company already has various other products on the market which include toilet, medicated and laundry soaps, detergents, glycerin, pet jellies, creams, lotion and candles.
(Visited 19 times, 3 visits today)
Latest posts by Vanessa Banda
(see all)