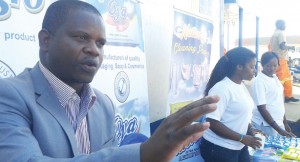 Anchor takes new products to Mzuzu
Anchor Industries on Monday took the launch of its new Oya Coconut and Washa soaps and Milgro milk to Mzuzu as part of its marketing and distribution strategy of the productions.
Speaking at the launch, Anchor Industries sales and marketing manager Maulana Katanje said the new products were of high quality and consumer oriented, citing the soaps which he said have, among other things, lasting fragrance that would bring smiles on people's faces.
"Oya Coconut soap is coming from natural fruit and has good fragrance for consumers to enjoy their bathing. We want to add happiness to families as they use this soap," said Katanje.
"There is nowhere in Malawi where somebody else has decided to use coconut in a soap. It is only us," said Katanje, adding that Oya soap is going at K99.00 while Washa laundry soap at K75.00.
He described the Milgro milk as the most loved milk by consumers.
"We are already supplying the milk to many institutions," said Katanje.
To ensure sustainable supply in the northern region, Katanje said Anchor Industries has opened a regional branch in Mzuzu.
Mzuzu Metro shop manager Felix Mumbo said Oya soap and Milgro milk were selling like hot cakes and was worried of constant supply.
The products have been under sampling promotion at Mzuzu Metro for the past three months.
(Visited 19 times, 19 visits today)
Latest posts by Vanessa Banda
(see all)