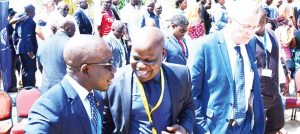 Assets Bill to step up anti-corruption drive
Director of Public Procurement (DPP), Paul Taulo, has said the enactment of the Public Procurement and Disposal of Assets (PPDA) Bill of June 2017 will help to step up the anti-corruption drive in public procurement.
Taulo said this will be achieved by promoting capacity building, monitoring, oversight and regulatory activities.
"We are in the process of establishing the PPDA and this means that the PPDA will shortly replace the Office of the Directorate of Public Procurement (ODPP) which was established under the Public Procurement Act of 2003 which was primarily responsible for the establishment of the Malawi Institute of Procurement and Supply (Mips) in 2008," Taulo said.
"The country should expect a new level of performance and compliance to the law, as opposed to the case in the past because the PPDA has been given the whip, which the ODPP did not have," Taulo said.
He said the new law has enhanced mandate and will also look at the provision of disposal of public assets, provision of standstill period in a procurement proceeding and the provision of penalties for controlling officers who contravene provisions of the PPDA.
"PPDA will clarify some areas presumed 'grey' in the Public Procurement Act of 2003, including the chairmanship of the internal procurement committees, among others. It will also provide autonomy to the board of directors to provide supervision and guidance to the PPDA," Taulo said.
(Visited 8 times, 8 visits today)
Latest posts by Vanessa Banda
(see all)