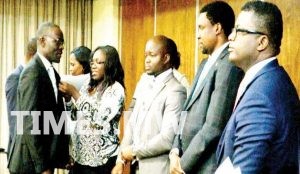 Association of Certified Chartered Accountants inducts new members
The Association of Certified Chartered Accountants (Acca) in Malawi has inducted 185 new members who have qualified with the body since 2014.
Acca Director for sub-Saharan Africa, Jamil Ampomah, hailed the new members for their hard work and years of dedication to their studies.
"Your hard work has resulted in you becoming an Acca member, a great achievement which will greatly benefit your future.
"Acca membership has changed the lives of over 188,000 men and women around the world for well over a century," Ampomah said.
He said people pick Acca as their membership body of choice because the certification body continues to demonstrate it is the global leader in accountancy and finance qualifications.
He challenged the new members to go out there and demonstrate the value gathered over the years.
Ampomah said the role of the professional accountant has never been more exciting and more challenging, adding that the global economic and business landscape is changing at a speed and with an intensity that seems unprecedented.
He said some of the factors reshaping the world include climate change, resource scarcity, geopolitical conflict as well as unpredictable emerging markets.
According to Ampomah, the complexity, variety and interconnectedness of these factors make it impossible to anticipate exactly how trends will evolve.
"As Acca members you are expected to act ethically. We understand that what is regarded as 'acceptable behaviour' in itself presents a challenge. The right course of action is not always obvious.
"It is for this very reason we encourage our members to go above and beyond demonstrating ability and skill. Ethics is much more than simple compliance, it is about an attitude of mind," he said.
Acca Malawi Chairperson, Lyton Chithambo, who is also Press Corporation Limited Risk Manager, described Acca membership as a passport to global success.
"With Acca membership, you can work anywhere in the world. You don't have to confine yourself to the local economy," Chithambo said.
(Visited 39 times, 39 visits today)
Latest posts by Vanessa Banda
(see all)