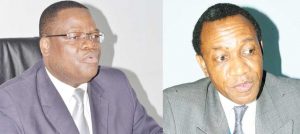 Association of Chartered Certified Accountants challenges accountants
Accountants in the country have been told to think outside the box and engage in entrepreneurship to contribute more to the social economic development of the country.
This was said during the Association of Chartered Certified Accountants (ACCA) Annual General Meeting which took place recently.
In his presentation, Public Private Partnership Commission Chief Executive Officer, Jimmy Lipunga, said it is important for accountants to innovate.
According to Lipunga, accountants have a critical role to play to boost the Gross Domestic Product
"This can only take place if we develop capacity in the manufacturing sector and improve on entrepreneurship culture.
"Accountants should not restrict themselves to the traditional role of being auditors but they should take risks and become entrepreneurs themselves or if they are not directly involved in entrepreneurship, they should contribute to the cause through consultancy," Lipunga said.
He further said businesses have life cycles and as accountants, they should be able to know that the business has matured.
"Businesses have development and maturity stages and if new competitive edges are not developed, you are better off cashing in on your investments and re-invest in a different area. If you stick too long in a dying business, you risk losing your entire investment in a business that has entirely collapsed.
"Being able to assess when to exit depends on your analytical ability and also an appreciation of the risk profile, risks that are actually confronting your businesses. If your competitive edge is such that competition is undermining you, you have new entrants and there is very little on your part to counter those forces," he said.
In her presentation, Malawi Polytechnic Vice Principal, Nancy Chitera, said in this digital era, innovations are a must.
She said holding on to the old ways of doing things can be costly in the digital era.
"Slow response is very expensive. Learn to take advantage of what is happening in the market. Diversification in the digital era is very important," she said.
Chitera further said for organisations to build leadership strength, they first need to know what elements of leadership are needed and valued in the organisation and for what roles.
"This may be an obvious point, but it is one that has organisations spending enormous sums of money and time trying to define needed competencies," she said.
In his speech, the guest of honour at the event, Thom Mpinganjira, said accountants need to be focused.
"The vision of accountants must be to become head of the organisation. Better still, to head or lead your own organisation. Accountants are better placed to lead and manage organisations because they are at the centre of decision making.
"With that in mind, from day one, we need to ensure that we deliberately focus our personal development on leadership and management skills and expertise through leadership courses, executive management programmes and seminars," he said.
(Visited 77 times, 77 visits today)
Latest posts by Vanessa Banda
(see all)