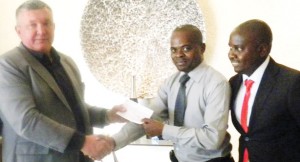 Atlas Energies sponsors Blantyre Press Club workshop
Atlas Energies, a local solar power generation company in conjunction with Nyasa Manufacturing Company, has donated K1million to Blantyre Press Club towards a climate change effects on food security, environment and tobacco industry workshop for journalists.
The workshop will take place from July 24 to July 26 in Mulanje and is expected to be officially opened by Minister of Agriculture Allan Chiyembekeza.
Presenting a cheque for the donation on Tuesday, Atlas Energies chairman Konrad Buckle said as a solar energy producing company, they would like to help raise awareness on the impact of climate change in the country.
He said Malawi has been hit hard by climate change and that this has affected agriculture production which is the country's economic backbone.
"We find this workshop as necessary and timely. Apart from that, we also realise the connection between tobacco production, energy generation and climate change; hence we have come forward with this donation," said Buckle.
He said Atlas Energies would like to see Malawi grow economically and that this can only be possible if various stakeholders engaged in the fight against obstacles that hinder economic growth.
The obstacles, according to Buckle, included power outages and inability to add value to agriculture produce.
Atlas Energy has recently received a commitment from USA and Germany companies to invest in an $80million solar power project to generate 40 to 50 megawatts power by next year.
On his part, Blantyre Press Club president Blessings Kanache said the workshop has been organised to look at how best journalists can contribute towards addressing the impact of climate change on food production and the environment in general.
"We thank Atlas Energies for the donation which will help us achieve our goal,"
(Visited 5 times, 5 visits today)
Latest posts by Vanessa Banda
(see all)