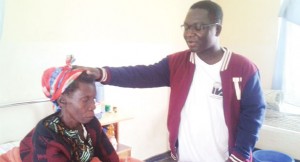 Auditors body aids St. John's Hospital
The Institute of Internal Auditors (IIA) on Saturday donated assorted food stuff to patients at St. John's Hospital of the Mzuzu Diocese of the Catholic Church as part of the awareness campaign of the roles of auditors in the country.
IIA holds awareness campaign in May every year.
Meanwhile, IIA has warned St. John's Hospital that it exposes itself to risks of bad governance and theft of drugs, money and assets by having no internal auditor.
IIA has since advised the hospital to consider employing an internal auditor to ensure that it operates within the required standards set by several regulators.
"This hospital is a big institution and it needs to have an internal auditor. An internal auditor has a sharp eye and will help the hospital to comply with various standards as required by some regulators like Cham or Medical Council of Malawi," said IIA member, Chipiliro Banda, who is also an auditor at Mzuzu University.
Banda's advice came after noting that standards at the hospital were going down.
For example, the hospital has had no medical doctor for two months now.
During the visit to the wards, it was found that most beds were vacant and the ceiling broken requiring maintenance.
The hospital's administrator Charity Chinkono admitted that the hospital needed an internal auditor but said it was difficult to do so because the employment of staff is made by Christian Health Association of Malawi.
"Cham has to give us a go ahead. We have other problems like inadequate guards. Yes, we do not have a doctor for the past two months. We outsource one where there is need. We have advertised for one but the response is not that good," said Chinkono.
Chinkono thanked the auditors for donating food stuffs to the patients, saying they had lessened their burden of providing food to the needy patients in the hospital.
Latest posts by Vanessa Banda
(see all)