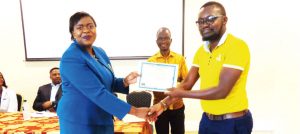 Auditors cautioned on quality control
By William Kumwembe:
Internal auditors have been urged to value integrity and adhere to ethics if they are to be effective and efficient in service delivery.
Internal Audit Manager at Blantyre Water Board, Ruth Thindwa, made the call in Blantyre on Friday at the end of a three-day training workshop on audit report writing for impact and effectiveness.
The workshop was organised by the Institute of Internal Auditors (IIA)- Malawi.
In an interview on the sidelines, Thindwa said in the recent past, there have been many practices exposed, both in public and private sectors, that show failure of internal controls.
She said concise and clear reporting by internal auditors would help in quality control at both public and private sector institutions.
"We expect improved reports as the Institute of Internal Auditors. We expect reports, which target the audience, to be concise and clear.

"As the operating environment is always changing, we want to improve on quality control. Every organisation requires an internal auditor because this is the hub of assurance in as far as safeguarding of assets of the organisation is concerned," Thindwa said.
IIA-Malawi Board Member, Rabecca Mtekateka, who was one of the core facilitators at the training, said the workshop was meant to help auditors produce reports that would have an impact.
She said failure to come up with best reports has been affecting operations of most businesses and institutions.
One of the participants, Mphatso Mponda, said knowledge acquired would help the participants adhere to international standards in report writing.
He said quality report writing is critical in the report writing process as it ensures that issues of governance, control and compliance are at the centre of every organisation.
Latest posts by Vanessa Banda
(see all)