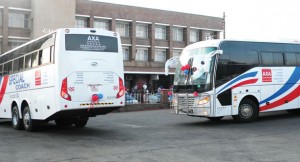 Axa invests in modern fleet
Passenger service giant, Axa says it plans to spend a total of US$10 million (about K6.15 billion) on 38 new coaches as one way of revamping its fleet.
Axa Chairperson Mark Katsonga was speaking in Blantyre on Tuesday when the company unveiled five new buses and a bus terminal in Limbe.
Katsonga said the arrival of the new coaches on the market will revolutionalise the country's transport sector.
"We are planning to buy 38 new coaches to boost our existing fleet. We have started with five and, all things being equal, we expect the remaining buses to be in Malawi in the next 12 to 18 months.
"For the first lot, we have spent in the region of US$1 million but our total budget is US$10 million," said Katsonga.
According to Katsonga, the new coaches are among the best brands currently available in the Southern Africa region. He also hailed the company's passengers for their continued support to the company.
Blantyre City Mayor Noel Chalamanda, who was guest of honour at the function, hailed Axa for its contribution towards modernizing the country's transport sector.
Chalamanda said as the country develops, there is need for operators in all sectors of the economy to strive to give Malawians the best service.
(Visited 47 times, 47 visits today)
Latest posts by Vanessa Banda
(see all)