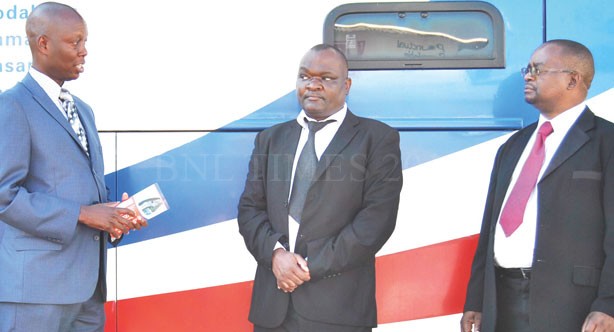 Axa to ferry journalists to press day activities
Axa to ferry journalists to press day activities
Axa Bus Company has offered to freely transport journalists from Blantyre and Lilongwe to Mzuzu where this year's World Press Freedom Day (WPFD) celebrations will be held on Saturday, May 2.
The WPFD is an annual event held across the world to celebrate achievements as well as to reflect on some of the challenges journalists face.
Speaking at a ceremony to announce the offer in Blantyre Monday, Axa General Manager Cuthbert Chinguwo said his company decided to support the events in Mzuzu because of the respect it has for the media.
Chinguwo said journalists play a critical role in the development of the economy as well as businesses.
"We are very happy today to contribute towards the success of this year's WPFD. Our donation is worth about K1 million. We want the journalists to travel safely in our luxurious bus to and from the venue of the meeting," said Chinguwo.
He added that Axa is currently in the process of procuring a fleet of new buses which should hit the market soon.
In his remarks, Misa Malawi Chairperson Thom Khanje thanked Axa for its contribution towards the WPFD.
"We appreciate the support from Axa and we look forward to a continued partnership with the company which is owned and ably run by our fellow Malawians," said Khanje.
In his remarks, Misa Malawi's legal counsel Mandala Mambulasa hailed Axa for the contribution and urged other companies and organisations to emulate the gesture.
Under the support from Axa, Misa-Malawi will only be required to provide diesel for the bus's trip to and from Mzuzu.
Some of the activities lined up for the WPFD include a solidality march, debate, sports activities as well as presentation of awards to outstanding journalists and media houses in various fields.
Latest posts by Vanessa Banda
(see all)