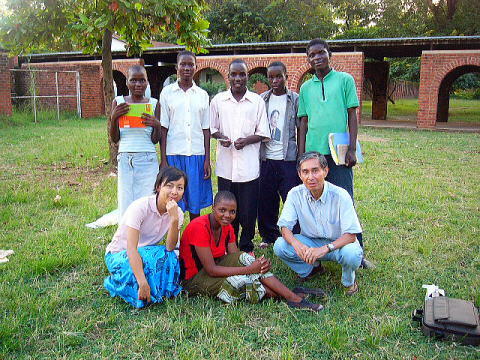 BALAKA SECONDARY SCHOOL OPERATES FOR OVER A MONTH WITHOUT TAP WATER: WITNESS THE MAGIC
It is 7:30 in the morning. Those who walk for a distance to work and their path forces them to get near Balaka Secondary School everyday are no longer strangers to the phenomenon. Every morning, students from the school are rushing up and down to the nearby Balaka Primary School borehole for water.
"We wake up so early every day. If we don't, what will happen to us?" says one form four boy. The only borehole the school had drilled years back resorts to malfunctioning in times like this too: overused. "It is disaster, real bad. Imagine the heat…" this is one angry response one gets upon asking the learners how it feels like putting up at an academic institution for over a month without water.
Teachers have expressed a concern too. They don't know why water board is not treating the matter with urgency. "Electricity? The school can survive without it. But we are talking of water. Don't they say it's life?" Says one other youthful teacher who shows so much concern but he too wants to remain anonymous. He suggests that if things go like this for another week, it would not be wrong closing down the place until the problem is rectified.
School authorities have been trying to explore all avenues. Balaka is ironically a very hot place this time of the month. The school has become a desert with learners searching for an oasis every morning. The school administration is reported to have contemplated on purchasing water reservoirs and some water-pumping equipment to help tame the problem in the long run. The headmaster admits they don't have the funds.
"That is what we are working at, it is very helpful" says Mr Likoswe without waiting to be asked on the administration's plans of dealing with the problem once and for all. He says they plan of knocking on the doors of all institutions that might help deal with the problem. "The banks, we can link up with NBS Bank, Standard Bank and National Bank for help. They have helped in different places before: they can do it here too."
Mr. Likoswe emotionally appeals to every other organization that feels it can help end the woes to come forward and offer its helping hand. He is worried like every other teacher. He knows it might seem well when there is no real health issue at hand apart from the taps running dry. But what happens in the toilets? "Just dare visit our toilets man, let's go together so you see what we are talking about." This is an angry sentiment from one male student who thinks my asking him about the problem's gravity is mere mockery.
If an infection broke out here, everyone I talk to agrees it would be disaster: no, a catastrophe. This is what worries the school administration most. Infections are very costly to manage, and it's normally too late. There are drugs that need to be made available in large quantity at once, health personnel to help in combating the infection, health education repeatedly offered to the public and whatever the health ministry decides to offer its citizens in a move to contain an infection.
This is how a country's economy crumbles: you fail to control a minor problem in the earliest stages only to spend a lot later fighting against it when it gets out of hand. Negligence by workers in public institutions is what is killing the already stagnant economy.
A second month into the problem and the water board is still nowhere to be seen. The kids can still be seen moving up and down holding pales in their hands wee hours of every morning. And, classes no longer begin at 7:30am these days. By that time, most of them haven't had a bath, and worse than that, they most likely haven't taken breakfast. It is an imminent genocide. Teachers stare from afar: staffroom windows.