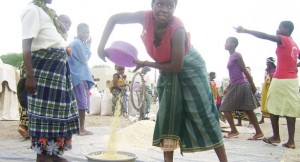 Bank forecasts tough times for the economy
Malawi's biggest commercial bank by assets, National Bank of Malawi, has predicted tough times for Malawi's economy in the coming months of the year.
In its summary of unaudited interim results for the period ended June 20, 2015 released yesterday, NBM has predicted a second half of the year punctuated by high inflation, high interest rates and a depreciating kwacha.
The bank says lagged pass through effects of the depreciating kwacha and food prices are expected to dominate and influence the rate of inflation.
"Rising food costs and a depreciating currency are expected to reverse the recent downward trend in inflation," reads the statement, in part.
"The looming food shortages will only heighten speculation and continue to push up food prices," says NBM in the statement.
Malawi's inflation was recorded at 21.3 percent in June 2015 up from 19.5 percent in May as pressure mounted on food prices.
Despite being just a few months after harvest, maize prices have remained relatively high at around K7000 per 50kg bag due to reduced volumes harvested last year.
NBM says the aid freeze by Malawi's donors in the wake the cashgate continues to force government into domestic borrowing to fill the gap, thereby exerting pressure on interest rates.
During the first half of the year, NBM group posted an after-tax profit of K8.1 billion up from K6.9 billion raised during the first six months of 2014.
The NBM board has since proposed an interim dividend of K1.5 billion, representing K3.22 per share which is K1 billion shy of the K2.5 billion declared during the same time in 2014.
The bank has further said that it expects the results of the second half of the year not to be significantly different from those in the first half.
(Visited 4 times, 4 visits today)
Latest posts by Vanessa Banda
(see all)