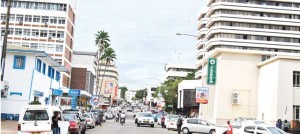 Banks struggle to meet Basel II requirements
Some banks are still struggling to meet Basel II requirements, necessitating mergers and acquisitions in the banking sector, the Reserve Bank of Malawi has confirmed.
Among others, Basel II calls for higher capital injection to minimise risk.
While acknowledging that most banks have since complied with the requirements, Deputy Governor responsible for Supervision of Financial Institutions at the Central Bank, Grant Kabango, conceded that the process is rigorous and demands efficient strategies to beat the tough operating environment.
But Kabango said for the banks that have successfully implemented the new laws and regulations, their contribution to the economy has significantly improved.
"We knew that this will not be an overnight thing, so most of the banks are strategising. The environment is equally not as good as one would want; they have to make good money for them to stick to the required ratio. However, the financial sector has performed well so far and continues to do so," said Kabango.
He said the prudential regulation requirements will remain relatively strict in line with capital adequacy, solvency ratios and other parameters as they adhere to international standards and others institutional recommendations such as the World Bank and International Monetary Fund.
Kabango said by requiring that the capital adequacy ratio is adhered to, the banking sector has been made stronger.
"So far, most of the banks are up to the mark. The bar has been raised as we know that the financial sector is always a dynamic sector. Our regulatory standards do not come from a vacuum," he said.
Basel II are recommendations on banking laws and regulations issued by the Basel Committee on Banking Supervision and local banks became compliant to the framework in January, 2014.
(Visited 1 times, 1 visits today)
Latest posts by Vanessa Banda
(see all)