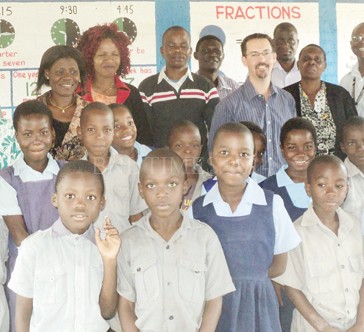 Barloworld Donates K720,000 Towards Painting New Schools
Barloworld has donated K720,000 —  Bongo Worldwide meant for the painting of four classroom blocks at four selected schools in Blantyre, Chikwawa and Nkhotakota in a project dubbed "Happy Classrooms".
In his remarks at Namalimwe where the two institutions unveiled one of the classrooms that have been painted, Barloworld Financial Manager, Barry Hutton said the act is as a result of the feeling that the corporate sector has a responsibility to support primary education in the country.
"When Bongo Worldwide introduced to us the Happy Classroom concept, we decided to jump at the opportunity," he said.
Since 2012, Barloworld has supported the painting of classrooms in schools such as Ng'onga and Namilango in Blantyre, St Mathews in Chikwawa and Mbvunguti in Lilongwe.
Bongo worldwide Projects Director, Justin Namizinga, said the programme was started in order to improve the learning and teaching environments in infants school section of standards one to four.
He said primary schools are overcrowded and that teaching is often limited to oral learning and repetition.
"This makes it difficult for children to concentrate as some of them are left behind, losing interest, unable to follow what the teacher is explaining," said Namizinga.
He said syllabus related paintings or decorations in class rooms are an easy, effective and long lasting way of addressing the current lack of visual teaching aids in the classrooms.
Latest posts by Vanessa Banda
(see all)