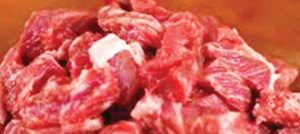 Beef scarcity to continue | The Times Group
Following the Foot and Mouth disease outbreak in the Shire Valley early this month, beef supplies on the market have been going down, prompting retailers to hike their prices.
The outbreak forced the government to ban movement of cattle from the Shire Valley to other districts.
Shire Valley is the highest cattle supplier in the Southern Region.
Director in the Department of Livestock and Animal Health in the Ministry of Agriculture, Irrigation and Water Development, Patrick Chikungwa, Tuesday said it is not yet known when the ban will be lifted.
He said currently, the ministry is doing surveillance after completion of the vaccination programme.
"We will shortly be issuing a press release with full details," Chikungwa said.
However, one of the officials doing the vaccination campaign said surveillance period takes about two weeks to ensure that there are no new cases.
Active surveillance started on Monday this week.
One of the major beef supplier S & A Cold Storage, said the communication they got from the ministry is that the ban might be lifted in two to three weeks' time.
The company's Managing Director, Abida Mia, said they are struggling to get cattle from other districts.
"Our abattoir is almost closed at the moment. We are only slaughtering 40 to 50 cattle per week and it is getting expensive to get the cattle from other districts," she said.
One of the retail shop operators, Sana Cash and Carry also echoed Mia's sentiments saying they are getting their beef from Lilongwe.
Sana Finance Manager, Muhammad Shoaib Iqbal, said it is expensive to transport meat from Lilongwe to Blantyre.
"We are getting about 50 to 100 kilogrammes of beef from Lilongwe in a week and it is lasting a day or two," Iqbal said.
Over 20,000 cattle were vaccinated in affected areas of Ngabu, Tomali, Kalambo, Chapananga and M'thumba.
(Visited 73 times, 73 visits today)
Latest posts by Vanessa Banda
(see all)