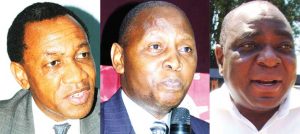 Blame game over Malawi Savings Bank sale
A blame game has ensued over the manner in which the previously government owned Malawi Savings Bank was sold to FDH Holdings Limited.
The new owners are accusing former management of MSB of giving inaccurate information on the money that was needed to recapitalise the bank.
Group Chief Executive Officer for FDH Holdings Limited, Thom Mpinganjira, said he is now spending more money to recapitalise MSB in line with Reserve Bank of Malawi requirements.
Two years ago, FDH Holdings acquired 75 percent stake in MSB, becoming majority shareholders of the bank, which, at the time, was struggling to stay afloat.
"I am very unhappy looking at all the money that we have put in this institution. At the time that we were making an offer for MSB, we were estimating that we were going to put in K3.5 billion in order to recapitalise the bank.
"But as we speak, we have injected K6.6 billion in the first phase of recapitalising the bank and we are expected to spend another K5 billion by June30 this year,"
Mpinganjira alleged that their investigations have found evidence of fraudulent transactions prior to the change of shareholding.
"You are aware that we lodged a complaint with the government of Malawi under the same agreement because those two things that we found were clearly fraudulent," he said.
But former MSB Chief Executive Officer, Ian Bonongwe, denied that any fraudulent activity took place in the bank during his watch.
He said it was surprising that Mpingajira is generalising the allegations when MSB had different management teams in its history.
"I do not think that is a fair statement, unless they were to prove it. But I can confirm to you that there was not fraud. But if they have evidence, then they are at liberty to bring it forward" he said.
He went on to disclose that the board and management of the bank were not involved in the sale of the bank.
"In the discussions that went on to conclude that transaction, management appeared at no stage to be involved. The discussions were between government, the Public Private Partnership Commission, the buyers and transaction advisers" Bonongwe said.
Finance Minister, Goodall Gondwe, declined to comment on the matter.
Reserve Bank of Malawi (RBM) Spokesperson, Mbane Ngwira distanced the regulator from the matter saying they only evaluated MSB's status in regard to Basel II and liquidity reserves requirements and were not involved in the sale.
(Visited 12 times, 12 visits today)
Latest posts by Vanessa Banda
(see all)