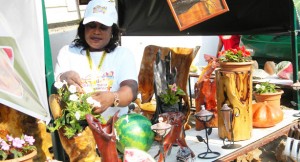 Blantyre florist calls for innovation
Local florist says innovations in the creation of artistic, cultural and other unique Malawian products can help attract tourists into the country.
Greenland Services proprietor, Nizia Chilenga, said Malawians should avoid copying foreign things in tourist attraction enterprises.
She said tourists travel to different destinations to learn and see new things.
"If we want to attract tourists from Europe, then we should not offer them things that are available in Europe. We should be innovative and come up new and local ideas," she said.
Chilenga said Malawi has the potential to attract tourists as it has special and unique features and that the country is also peaceful.
She said using local resources and talent, Malawians can come up with creations unique to the country.
She said Malawian culture is another aspect which can be used as a tourism tool.
Chilenga called on the government to take the leading in putting Malawi on the international map and help attract tourists into the country.
(Visited 22 times, 22 visits today)
Latest posts by Vanessa Banda
(see all)