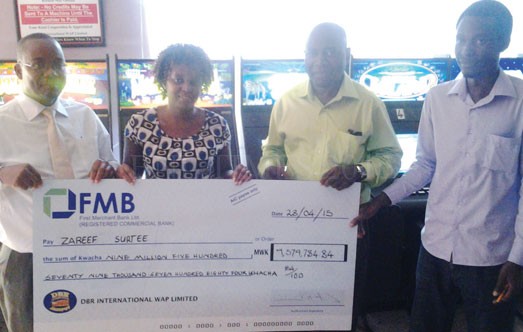 Blantyre man hits K9.5 m jackpot
Blantyre man hits K9.5 m jackpot
A Blantyre-based businessman on Saturday hit a K9.579 million jackpot after gambling on the machines at DBR Gold Card casino at Namiwawa in Blantyre.
The man who opted for anonymity told Times Television on Tuesday that he was very happy to hit the jackpot, saying the money will help him boost his business.
"I am very happy for hitting this jackpot. It will help me strengthen my struggling business," he said.
Malawi Gaming Board Chief Executive Officer Master Maliro described the hitting of the jackpot as good news for the board, saying they want people to win so that it sends a message to the general public that the machines are genuine.
He said this was a third jackpot this year, adding that DBR has paid over K87 million in prizes since January.
Maliro said gaming in Malawi growing, adding that many Malawians are now embracing the game.
"Initially we used to see foreigners only playing the game but now many Malawians are playing the game," said Maliro.
Mercy Mbewe DBR Goldcard Casino cashier expressed happiness that one of their customers managed to hit a jackpot.
"This sends a message to customers that indeed in gambling you can win," said Mbewe.
Latest posts by Vanessa Banda
(see all)