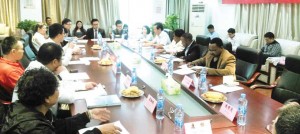 Blantyre Mayor in China to woo investors
Blantyre City Mayor, Noel Chalamanda, says the city of Blantyre is not looking for handouts from China but strong partnerships that are expected to produce tangible results in a win-win situation for investors and residents of Blantyre and Nanchang Cities.
Chal amanda made the remarks on Tuesday, when he held discussions with members of Nanchang Association of Industry and Commerce (NAIC) in China on possibilities of investing in Blantyre City and other parts of Malawi.
"We are looking for partnerships of different kinds. One of the ways of doing this is through Build, Operate and Transfer arrangement. We would want you to come to Blantyre, invest and after recouping your capital investment, we expect you to transfer such infrastructure to us," Chalamanda said.
Addressing the team of prominent business persons in Nanchang City, the mayor cited the energy sector, waste management, road infrastructure development, construction of modern bus terminals and establishment of amusement parks in Blantyre City as some of the potential areas that can be considered by Chinese investors.
"Government has deliberately put in place incentives to motivate foreign companies to consider investing in Malawi," Chalamanda said.
He was accompanied on the trip by Secretary for Local Government and Rural Development, Stuart Ligomeka, Councillor, Nellie Nseula, and Blantyre City Council Public Relations Manager, Anthony Kasunda.
On his part, Ligomeka said one of the incentives that government has introduced is tax holiday to woo investors in the energy sector.
Nanchang Association of industry and Commerce Chairman,XiongZhigang, said Chinese companies are keen to partner and cooperate with foreign companies including those from Malawi.
Xiong said a group of business persons will be visiting Blantyre soon to explore investment opportunities and deals.
Among those that attended the meeting were Deputy of Nanchang Foreign Affairs and Overseas Chinese Affairs Office, Director of Office of Nanchang Association of Industry and Commerce, President of Jiangxi Nanchang Shengtong Company Limited, Assistant President of Cjina Nanchang Foreign Engineering Corporation and Vice President of Jiangxi Ganliang Industrial Company Limited.
Chalamanda is in China under the sponsorship of the Chinese embassy to reaffirm the Council's commitment strengthen development ties with China.
Last year in October, senior officials from Nanchang City Municipality visited Blantyre City where a memorandum of Understanding was signed on a number of areas of cooperation including strengthening business partnerships and promotion of investment and cultural exchanges.
(Visited 59 times, 59 visits today)
Latest posts by Vanessa Banda
(see all)