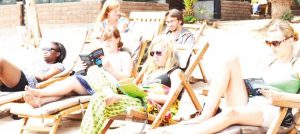 Bloodsucking rumours strain tourism efforts
Tourist associations have confirmed that bloodsucking rumours have resulted into the loss of revenue for the tourism sector. Malawi Tourism Association Chairperson, Stan Phiri, said when such negative stories are published, tourists conclude that the situation is out of hand.
"With such stories making rounds, tourists begin to fear for their safety and this will negatively affect tourism efforts and the appeal of Malawi as a tourist attraction. But we thank government for its efforts to address the problem," Phiri said.
In a separate interview, Mulanje Business Community Chairperson, Pharaoh Phiri, said, since the issue broke out, tourist flows into the area have gone down, putting at risk the livelihoods of those in the hospitality industry and other sectors that rely on tourism as an income-generating activity.
"Tourist flows have been cut by almost half and this is likely to affect economic growth and unemployment levels.
"Lodges and motels are the most affected as clients are cancelling their bookings. When they cancel, they also request for refunds.
"Business units are even failing to pay their workers as there is no business. Most of the operators have temporarily suspended their employees from work just to sustain their cash flows," Phiri said.
He also said, due to the cut in tourist inflows, tour guides have negatively been affected.
"If you go to Likhubula today, you will find the potters idle with no customers to serve. This means they cannot put food on their tables as their earnings come from guiding tourists," he said.
Tourism Association of Mount Mulanje Vice Chairperson, Nancy Chinyanya, said the rumours have negatively impacted on the flow of foreign tourists into the district.
She said, currently, there are no tourists coming to the area and this has impacted negatively on hospitality units and restaurants.
"The media are exaggerating the situation and now we are failing to put food on our tables as there is no business because of these false stories. We will continue to suffer loss of business if the stories continue to be published. Traditionally, summer is our peak period but we are not receiving any visitors following the spread of these rumours.
"Tourists help the country to earn foreign exchange but it is likely that the earnings this year will be lower than in previous years," Chinyanya said.
She added that many hospitality units have seen a lot of cancellations in accommodation.
The rumours resulted into the UN pulling out its personnel from the affected districts for safety reasons. Other diplomatic missions in Lilongwe also issued travel warning for their nationalsOne of the lodge operators said the rumours have affected the whole district.
The operator said most tourists have cancelled their trips and the US Peace Corps, who were residing in guest houses within the district, have left.
"In terms of business, the situation is bad. Most of our clients are organisations that have projects in rural areas and many have since cancelled their bookings as the risks are high for them to travel to project sites," the operator said.
(Visited 4 times, 4 visits today)
Latest posts by Vanessa Banda
(see all)