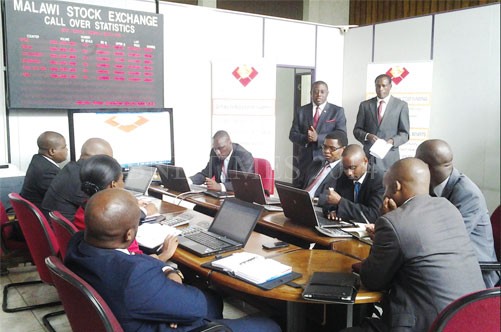 Bond trading enlivens Malawi Stock Exchange
Bond trading enlivens Malawi Stock Exchange
The listing of three Malawi government bonds worth K109 billion on the Malawi Stock Exchange (MSE) is expected to re-invigorate activity on the local bourse, with a senior MSE already saying that that they are impressed with the way trading of bonds has taken off on the bourse.
The Malawi government, through the Reserve Bank of Malawi, on Monday floated the bonds on MSE official which were issued in December 2011 and October 2014.
MSE Chief Operating Officer John Kamanga said i t was encouraging to note that despite most investors having already gone for holidays, there was still demand for the long-term trading instruments.
The listing saw the bonds attracting interest of between 31 and 32 percent, a development Kamanga described as encouraging considering that the rates are above inflation.
MSE chairperson Augustine Chithenga described the listing of the bonds as an important milestone in the 18-year history of the local bourse.
He said said the issuance and listing of the government bonds is in line with MSE's objective of providing an efficient and effective secondary market trading platform for financial instruments.
"What we are wi tnessing today is not only a testimony of the existing corporation among the Ministry of Finance, the Reserve Bank of Malawi and the Malawi Stock Exchange in the development and promotion of the capital market in Malawi but also a confirmation of investors' appetite for participation in capital markets in Malawi," said Chithenga.
The listing of the bonds, according to Chithenga, further enhances sustained and balanced growth of the economy.
He said the listing of the government bonds also paves way for increased introduction of other more innovative financial products in future.
"This development is strategic in meeting the differentiated demands for investors for a broader range of financial products at more competitive prices and through more efficient and convenient channels," said Chithenga.
Latest posts by Vanessa Banda
(see all)