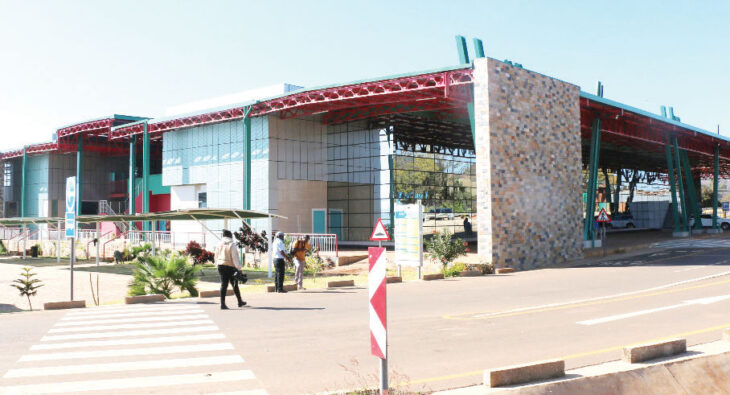 Border posts seen as money spinner
Steven Kapoloma
The Malawi Revenue Authority (MRA) has said the One Stop Border Post (OSBP) constructed in Mchinji at the Malawi—Zambia border will improve revenue generation as it will enhance formal cross border trade.
MRA Head of Corporate Affairs Steven Kapoloma said this during a sensitisation workshop at the Mchinji— Mwami OSBP aimed at creating awareness to the community and users.
Kapoloma said the one stop boarder post is encouraging formal trade as it will increase revenue for the government and consequently development in the border community and the country at large.
"We are committed to working with individuals that use this OSBP to ensure their products are well classified so that they have a smooth transition as they use this border and transport their valued products across the Nacala corridor and beyond," he said.
The Mchinji—Mwami OSBP is an inter -governmental project implemented by partners from the integrated border management, including the Malawi Revenue Authority (MRA), Zambia Revenue Authority (ZRA) and other Zambia and Malawi border control agencies.
An OSBP uses harmonised legal and institutional framework, facilities, and associated coordinated procedures and processes that enable goods, people, and vehicles crossing a border, to stop only once in the country of entry.
The traders undergo necessary regulatory controls in line with applicable regional and national laws to the adjoining state.
Principal Secretary in the Ministry of Trade and Industry Chritina Zakeyo expressed similar sentiments to Kapoloma saying the border will change the way business is done at the border.
"With the new infrastructure present at the OSBP, we anticipate enhanced efficiency and effectiveness in border clearance processes. This will consequently reduce the time spent at the border and trade turnover will increase significantly," she said.
The workshop was supported by TradeMark East Africa (TMEA) through funding from the United Kingdom's Foreign Commonwealth and Development Office and was attended to by border officials, District Council members, religious leaders, village elders and various border community members were sensitised on how an OSBP operates, its efficiencies and expectations on cooperation.
TMEA's Economic and Trade Advisor, Victor Mponda Banda said the Mchinji OSBP is an important milestone for Malawi in cementing its position as a key player in trade in the Southern African region and sets a positive precedent for other similar projects in the country's key border points.
The construction component of the post was funded by the African Development Bank (AfDB) and other partners.
Justin Mkweu is a fast growing reporter who currently works with Times Group on the business desk.
He is however flexible as he also writes about current affairs and national issues.
Let us know what you think of this article and remember to add us on our facebook and follow us on our twitter. Come back daily for more Malawi business news.
Quick Links: Download Business eBooks | Ten Signs You Are An Entrepreneur | What is a Managing Director?
Latest posts by Vanessa Banda
(see all)